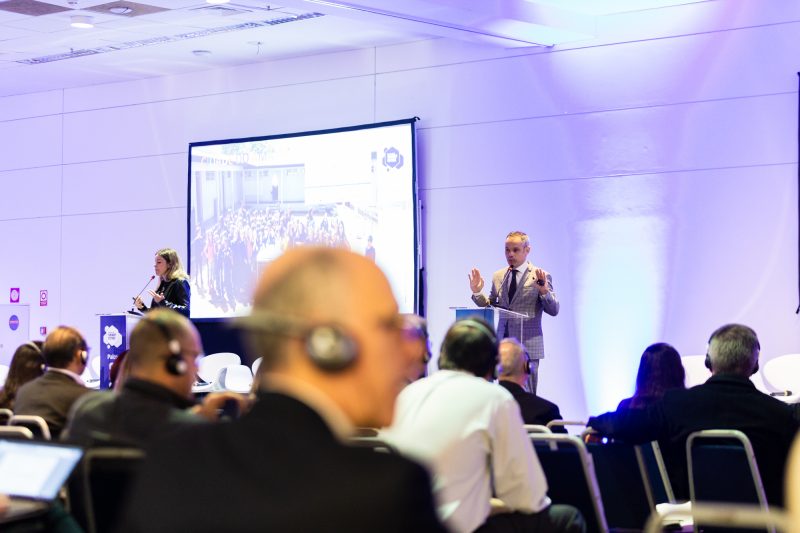 Connected Smart Cities announces themes and speakers confirmed in 2019 edition
The Connected Smart Cities organization, Brazil's most important intelligent cities platform, announces the list of selected lectures through the Call for Papers.
Connected Smart Cities 2019 will be held on September 17 and 18, 2019, in São Paulo, and will bring together governments, companies, entities and national and international experts. The event is in the 5th edition and contemplates the Themes Addressed: Sustainable Urbanism in the Cities; Entrepreneurial Cities; Participatory Cities, Prosperous Cities; Resilient Cities; Connected Cities; and Mobility and Accessibility in Cities.  
According to Paula Faria, creator of Connected Smart Cities and Sator's executive director, Connected Smart Cities 2019's Call for Papers result exceeded expectations, adding up to more than 100 proposals, or double the number of entries received in 2018 .
"We noted in this 5th edition of the event the evolution of the theme of intelligent cities in Brazil and the maturation of initiatives in the different regions, reflecting the work and actions such as those of our platform that, through various activities, have contributed effectively to the implementation of new tools and projects of smart cities in the country. And the result of the themes selected for 2019, initially 56 lectures, and that will be part of the program of the event, is a result of the maturation of the theme and involvement of the various segments, such as governments, companies and entities", said Paula Faria.
Get to know the list of lectures selected by Call for Papers grouped by topics addressed:
Sustainable Urban Planning in Cities
Resilience, Efficiency and Quality: where we are and how to promote innovation as a path to greater sustainability in Water – Durval Bacellar (Arcadis);
Circular economy project for the recycling of end of life vehicles in the State of Minas Gerais – Daniel Enrique Castro (CEFET-MG);
From ghost towns to connected cities: How China has transformed its cities into fundamentals of its economic success – Felipi Barros (China Fortune Land Development);
Systemic modeling for intelligent cities in the interaction between Urbanism and technologies – Professor Dr. Saide Kahtouni and Professor Dr. Marcelo Pessoa Schneck de Paula (Connectivity – Laboratory of Cities, Technology and Urbanism – Polytechnic School of USP);
Efficient Cities: The potential for sustainability in the management of public buildings – Architect Maria Andrea Triana (Brazilian Council for Sustainable Construction – CBCS);
Feasibility Analysis for Public-Private Partnerships (PPPs) for Basic Sanitation – Leonardo Tavares Ribeiro (Federation of Industries of the State of Rio de Janeiro – Firjan);
Nature-based solutions for water security – Renato Atanazio (Boticário Group Foundation for Nature Protection);
Igualab – Open innovation in sanitation: startups with more purpose – Péricles Weber (Iguá Saneamento S/A);
Homemade composting included in IPTU Verde de Sertãozinho (SP) – Rafael Jó Girão (Instituto Agir Ambiental);
Public private partnerships as a tool to implement, develop and implement parks and urban spaces – Pedro Lira (Urban nature Integrated Planning);
Real-time monitoring of atmospheric emissions from public transport – Roberto Speicys Cardoso (Scipopulis);
Intelligent and Sustainable Cities: concepts and perspectives for Brazilian cities – Wilson Levy Braga da Silva Neto (Universidade Nove de Julho);
Kludge not! Creative Solution – Andréia Abrahão Sant'Anna (Smart Campus Newton).
Entrepreneurial Cities
Smart Cities – The Strategic Design Perspective – Francisco Albuquerque (Arco | Innovation Hub);
Simplification of the process of issuance of sanitary permit in Belo Horizonte – Zilmara Aparecida Guilherme Ribeiro (Sanitary Surveillance Directorate / Municipal Health Department of Belo Horizonte);
Presentation of the results of the Belo Horizonte Carnival Experiment Laboratory 2019 – Marcos Boffa (Municipal Tourism Company of Belo Horizonte S / A – Belotur);
Maceió – Smart City: Structuring Governance to generate business – Vanessa Fagá Rocha (SEBRAE Alagoas);
Innovation in Education: How to prepare the next generation to develop Intelligent, Human and Sustainable Cities – Regiane Romano (UNIFACENS / Smart Campus FACENS).
Participative Companies
Between public and private: participation and social justice in the construction of intelligent cities – Lívia Menezes Pagotto (Center for Sustainability Studies – FGV – FGVces);
Data Governance in Intelligent Cities in Brazil – Luã Fergus Oliveira da Cruz (Technology and Society Center – CTS of FGV Direito Rio);
Gamification for citizen engagement – Gustavo Moreira Maia (Colab Technology and Internet Services AS);
PBH APP – Mobile platform of relationship of the City of Belo Horizonte with the citizen – Jean Mattos Duarte (Belo Horizonte City Hall);
Multiple perspectives on popular participation: methodology of review of the master plan of Passo Fundo – Ana Paula Wickert (City Hall of Passo Fundo);
Civic Engagement and Participation to Improve Education – Juliana Mari Sakai (Transparency Brazil);
A Social Network for Your Neighborhood – Carlos Eduardo Pires (Fala Cidadão).
Prosperous Cities
Online Environmental Licensing – Denis de Oliveira Silva (CODIUB – Uberaba Informatics Development Company);
Firjan Index of Fiscal Management (IFGF): financial risk assessment tool for Municipal Public-Private Partnerships (PPPs) – William Fonseca Pamplona Figueiredo (Federation of Industries of the State of Rio de Janeiro – Firjan);
Opportunities for Concessions and Public-Private Partnerships (PPPs) in RJ – Isaque Regis Ouverney Federation of Industries of the State of Rio de Janeiro – Firjan);
Fortaleza Competitive City – Maria Águeda Bridges Caminha Muniz (City Hall of Fortaleza);
Fortaleza Online: a new look at urban and environmental licensing – Maria Águeda Pontes
Caminha Muniz (Municipal Secretary of Urbanism and Environment of Fortaleza);
Poles and Clusters Street Retailers: Big Data and Urban Indicators for the Elaboration of Public Policies and Public Private Partnerships – Larissa G. Campagner (Universidade Mackenzie, FAU and Associação Comercial de SP);
Cooperation between the civil society organization and the public administration to support the structuring and modeling of concessions and / or PPP projects in basic sanitation, with funding from the private sector – Thomas Strasser (Fundação Ezute).
Resilient Cities
City and Children: powerful meetings and connections – Juliana Marques Awad (Cidadeira);
How to promote safer and more intelligent urban spaces and cities from a gender perspective? – Laís Rocha Leão (inCities);
Digital Emergency – Felipe Ferreira Fontes (Nearbee);
Antiphagile City – Caio Esteves (Places for us);
Public health business intelligence – Tatuí – Rafael Passarinho (Tatuí City Hall).
Connected Cities
Rio Operations Center and the role of urban command and control centers in the construction of more intelligent and resilient cities – Alexandre Cardeman (Center of Operations of the City of Rio de Janeiro – COR);
Smart cities in the context of Latin American metropolises – Gabriel Mazzola Poli de Figueiredo (FAU-USP);
Fortaleza + Inteligente – Cláudio Ricardo Gomes de Lima (Foundation of Science Technology and Innovation – CITINOVA);
Smart Costa del Sol – Francisco Guerrero Aranda and Joaquín Muñoz Galvez (IDOM Consulting,
Engineering, Architecture SAU);
Harmonizing Energy Management with ODSs in the Municipal Master Plan – Oswaldo Sanchez Junior (Institute of Technological Research of São Paulo – IPT);
INATEL Smart Campus – Carolina Leão (Instituto Nacional de Telecomunicações);
CIDADES SEGURAS – Segurança Pública integrada e conectada – Ivan Marques (Instituto SOU DA
PAZ);
Tourism, Culture and Technology: the Case Belo Horizonte Amazingly – Robson Lisboa (Midiacode);
Video Wall Trends for Command and Control Centers in Latin America for 2019-2020 – Nilton Paulo Raimundo Mendes (Mitsubishi Electric US, Inc. – Visual and Imaging Systems Division);
Local management of socio-technical networks as a strategy for the implantation of intelligent and human cities – Marcos Alberto MartinellI (Nucleus of Information in Science, Technology, Innovation and Society);
Robot of the Ombudsman Service of Barueri – Chatbot & Other Solutions for Smart Cities – João Azevedo Júnior (City Hall of Barueri);
From garbage to light – Silvio Bertolini Pasin (Bento Gonçalves City Hall – RS);
Piraí intelligent and connected city – Osni Augusto Souza da Silva and Luiz Antonio da Silva Neves (Piraí City Hall);
Facial and behavioral recognition for combat and crime prevention – Thiago Rangel (Prodabel S.A);
The regulation of the Smart Cities: a comparative study between Brazil and Germany – Mariane Silva de Castro (University of Lisbon);
Virtual Reality for Smarter Cities – Hélio Lemes Costa Jr (Federal University of Alfenas- Unifal-MG).
Mobility and Accessibility in Cities
Innovation in governments for mobility. What are the lessons in MobiLab? – Daniela Swiatek (MobiLab – Laboratory of Innovation in Mobility of the City of São Paulo);
Digital Rotating Parking as an effective tool for urban mobility and increased municipal collection – Leandro Garcia (Prodabel S.A.);
Intermodality – Integrating the shared bicycle system with public transport – Tomas Martins (tembici).
READ MORE
Connected Smart Cities | National Event
Date: September 17 and 18, 2019
Location: Centro de Convenções Frei Caneca, Rua Frei Caneca, 569, Consolação, São Paulo/SP
WOULD YOU LIKE TO KNOW ALL THE NEWS ABOUT THE 2019 CONNECTED SMART CITIES EDITION? CLICK HERE!
HAVE YOU ALREADY REGISTERED IN THE MOST IMPORTANT EVENT OF INTELLIGENT CITIES IN THE COUNTRY?
CLICK HERE AND GUARANTEE YOUR PARTICIPATION!