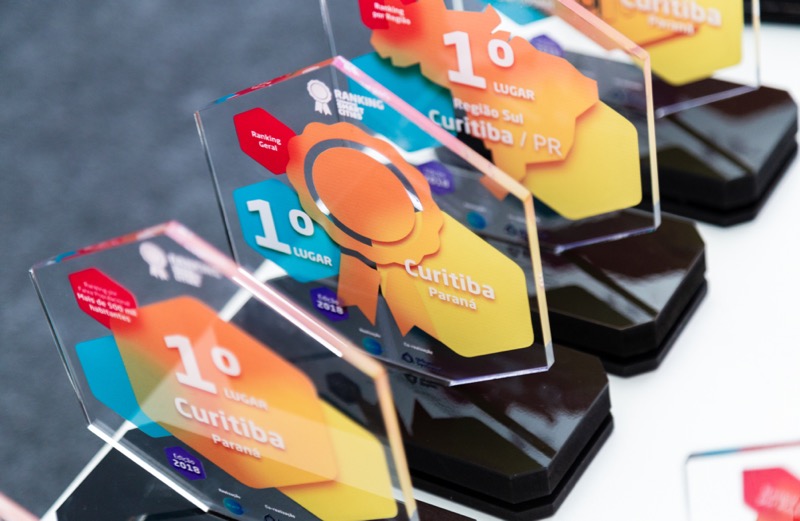 What are the five smartest cities in the country?
Curitiba is the smartest city in Brazil, according to the Connected Smart Citeis 2018 Ranking, followed by São Paulo and Vitória. The 4th place went to Campinas and the 5th Florianópolis, in the General Ranking.
Considered the most important survey on smart cities in Brazil, the Connected Smart Cities Ranking 2018 includes about 700 cities and analyzes 70 indicators. In the Overall Ranking, the study points out the five smartest cities in the country. The first place went to Curitiba, followed by São Paulo and Vitória. Fourth place Campinas; 5th Florianópolis.
The Connected Smart Cities Ranking is conducted by Urban Systems, in partnership with Sator. The study aims to define the cities with the greatest potential for development in Brazil, being divided into four results: General, by Thematic Axis, Region and Population. The ranking is composed of indicators from 11 main sectors: mobility, urbanism, environment, energy, technology and innovation, economy, education, health, security, entrepreneurship and governance.
Highlights
Curitiba
The capital of Paraná earned 1st place in the General Ranking, 2nd in Entrepreneurship and Urbanism, 3rd in Technology and Innovation and 1st place in Governance. With the result, Curitiba rose one position and surpasses São Paulo, 2nd place.
In addition to the highlights in the ranking, Curitiba also stands out for having 4 Technology Parks (Poles), 7 company incubators and presented growth of 20% of individual micro companies.
São Paulo
In the last two editions (2016 and 2017), the first place was won by São Paulo. The capital of São Paulo won the 1st place in three categories: Southeast Region Ranking, Mobility and Urbanism, in addition to 4th place in Technology and Innovation.
In the four editions of the study, São Paulo reached the first place in Mobility and Accessibility. The capital has 2.82 km of mass transit modes per 100 thousand inhabitants, 3.87 km of bike path per 100 thousand inhabitants.
Vitória
Vitória reached the first place in the General Ranking and in three other categories: by Population Range of 100 thousand to 500 thousand inhabitants, in Health and Education.
The capital of Espirito Santo has 7.7 beds/thousand inhabitants, 859 doctors/100 thousand inhabitants. In Vitória, 81% of the population has family health care coverage, and the expenses paid for health reach R$ 644/inhabitant and, in relation to the death rate, is 2.3 deaths/thousand live births. Regarding Education, Vitória presents highlights, such as: Average in Enem of 604; 98.3% of public high school teachers with higher education; and note 4.1 in the Basic Education Development Index (IDEB), for example.
Campinas The city rose four positions in relation to the previous edition of the Ranking and won the 4th place overall ranking, besides the 2nd place in Economy, 3rd in Entrepreneurship and 5th in the Mobility and Technology and Innovation categories.
Campinas, highlighting Economics, Entrepreneurship, Mobility and Technology and Innovation, has an average income of formal workers of R$ 3,490; formal employment growth of 0.1%; the independence of the public sector (jobs) is 94.2%; 3.8% growth in technology companies; 4 incubators; 19% growth in individual micro enterprises. The city has Technology Parks; 1.91 km of cycle path per 100 thousand inhabitants; 6.4% of households with wheelchair ramp in the surroundings; 262 interstate road connections; 69 air destinations; 28% of internet connections with speeds over 34 MB; 24% of workers have higher education, among other highlights.
Florianópolis
With the result of 2018, the city rose one position compared to the previous edition, when it was in 6th place.
Important indicators stand out in Florianópolis. The city has 18 places in public university per thousand inhabitants over 18 years; ENEM average is 602; average of 4.6 from IDEB; 94.4% of the high school teachers completed higher education, the dropout rate (high school) is 6.7% and the expenses paid for education amount to R$ 811. The capital presents growth of 5.6% in technology companies, 3 Technology Poles, 3 Incubators and 21% growth in MEI.
History
General Classification Ranking Connected Smart Cities | History of 4 Editions
INDICATOR
2018
2017
2016
2015
Connected Smart Cities
Curitiba
São Paulo
São Paulo
Rio de Janeiro
Mobility and Accessibility
São Paulo
São Paulo
São Paulo
São Paulo
Urbanism
São Paulo
Santos
Curitiba
Curitiba
Environment
Santos
Belo Horizonte
Belo Horizonte
Belo Horizonte
Energy
Pirassununga
Tubarão
Guarapuava
Guarapuava
Technology and innovation
Rio de Janeiro
Rio de Janeiro
São Paulo
São Paulo
Health
Vitória
Vitória
Vitória
Vitória
Security
Ipojuca
Vinhedo
Ipojuca
Ipojuca
Education
Vitória
Curitiba
Vitória
Vitória
Entrepreneurship
Rio de Janeiro
São Paulo
Rio de Janeiro
Rio de Janeiro
Governance
Curitiba
Barueri
Curitiba
Curitiba
Economy
Barueri
Barueri
Rio de Janeiro
Rio de Janeiro
The 2019 edition of the survey will be released during the Connected Smart Cities national event, which will be held on September 17-18, 2019, in São Paulo.
To access the ranking of all cities participating in the survey and the indicators that make up the Connected Smart Cities 2018 Ranking, CLICK HERE!
Warning
: Parameter 2 to qtranxf_postsFilter() expected to be a reference, value given in
/var/www/evento.connectedsmartcities.com.br/public_html/wp-includes/class-wp-hook.php
on line
287